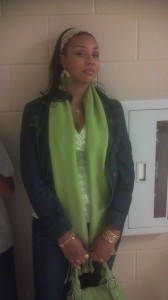 Coach M. McCarthy
Fitness Coordinator / Certified Personal Trainer

Coach Marla McCarthy is our resident fitness guru. She is responsible for providing information concerning health, physical fitness assessment, physical conditioning, and functional fitness to the coaching staff. Under her consultation, the coaching staff is able to receive instruction in program management, basic anatomy & exercise physiology, injury prevention, and strength training. As a result, the participants will be exposed to different techniques and methodologies to develop and maintain a fitness program that will meet their specific needs. She has also served as the official photographer for the Flyers Family from day one.
Marla obtained her Bachelor's of Science from The Ohio State University in Exercise Science and she also has a Bachelor's of Science in Healthcare Administration & Management. Marla is accredited through the National Academy of Sports Medicine (NASM) as Certified Personal Trainer (CPT), as well as a Weight Loss Specialist (WLS). She combines this knowledge of nutrition and performance training to help participants achieve their full potential while maximizing sports performance and preventing injury.
This native of Wilmington, Ohio currently resides in the Dallas/Fort Worth area with her husband Jerome and their 7 children.