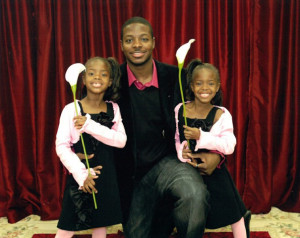 Coach J. Tyson
Speed & Conditioning Coach
Johnny Tyson serves as our strength and conditioning coach. This former NCAA Division I wide receiver was known at both The University of Houston as well as Texas State for his breakaway speed and determination. His athleticism was a testament to his work ethic. Coach Tyson's collegiate performance opened doors for an opportunity to play for the Dallas Desperado's professional Arena Football team.
Utilizing techniques and life lessons learned during his collegiate and professional career, Coach Tyson created – Tyson Speed Training (TST). This high intensity endurance training provides athletes the means to train consistently, sensibly and systematically. The goal is to prevent injury and improve athletic performance with as much sport-specific training as possible.
Coach Tyson has trained athletes from the elementary level up through the college ranks. He places an incredible value on continuing education and staying current with the advances in athletic performance training.  He is committed to delivering the most effective and innovative training modalities and his background in competitive athletics provides him with a broad experience in working with all types of athletes.
Coach Tyson received his Bachelors of Science in Exercise and Sports Science from Texas State University. A native of Houston, Texas, he currently resides in the Dallas/Fort Worth area with his twin daughters.
If you are looking to improve your athletic performance and want to train with Coach Tyson, you can contact him via email at tyson3rd@gmail.com.
Check out Coach Tyson in action…